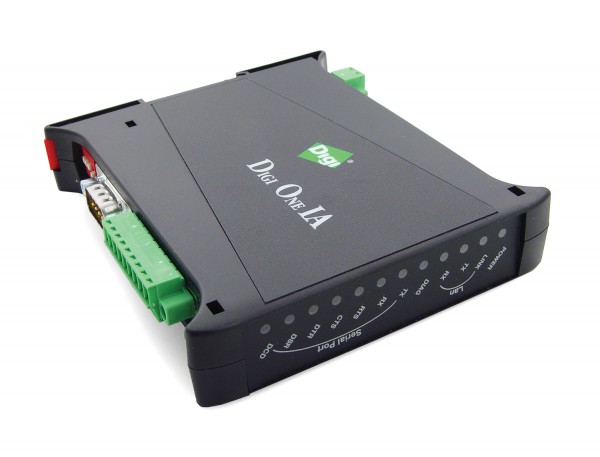 Preise sind erst nach der Anmeldung sichtbar.
Easy, reliable serial-to-Ethernet and Modbus-to-Modbus/TCP connectivity for industrial...
mehr
Produktinformationen "DIGI ONE IA"
Easy, reliable serial-to-Ethernet and Modbus-to-Modbus/TCP connectivity for industrial automation applications.

Digi One IA provides reliable, cost-effective network connectivity for serial devices. This unobtrusive and easy- to-use serial server delivers serial-to-Ethernet connectivity to Programmable Logic Controllers (PLCs), Remote Terminal Units (RTUs), bar-code readers and other industrial devices.

Digi One IA supports most industrial automation protocols through TCP/UDP connections, serial bridging or COM port redirection using Digi's patented RealPort® software. RealPort enables existing applications to communicate with serial devices over the Ethernet. By creating a Modbus bridge, multiple Modbus/TCP masters can share Modbus serial slaves, or Modbus serial masters can access Modbus/TCP slaves.

Digi One IA is easy to install locally or remotely. The IP address can be configured using DHCP, ARP-Ping or Setup, an application included with the installation CD that detects Digi One devices on the network. Using the web interface, users can configure advanced functions into their application.

Features:
– Patented RealPort for COM/TTY port control and management
– TCP/UDP Socket Services for broad device connectivity and application use
– Modbus serial to Modbus/TCP protocol conversion
– Switch selectable RS-232/422/485 for simple interfacing to any type of serial device
– Industrial DIN rail mounting for use in space- prohibitive control cabinets
– Galvanic isolation (between power and serial)
– Tunable for low latency or optimized throughput
Weiterführende Links zu "DIGI ONE IA"
Verfügbare Downloads:
Bewertungen lesen, schreiben und diskutieren...
mehr
Kundenbewertungen für "DIGI ONE IA"
Bewertung schreiben
Bewertungen werden nach Überprüfung freigeschaltet.